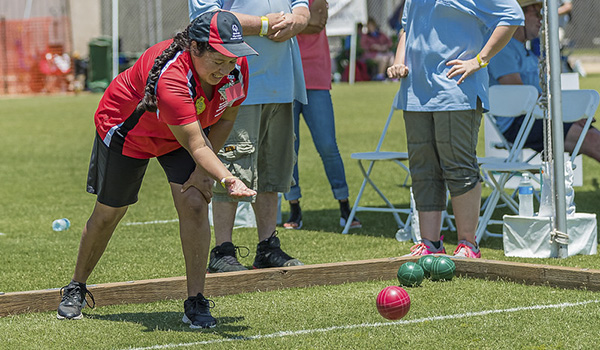 Bocce is a game of skill and strategy. The object is for one team to get as many of their balls (boccia) closer to the pallina (the smallest ball) than the opposing team's closest ball.
This sport is offered in the following locations:
Inland Empire
(Barstow, Corona-Noro, Menifee, Mojave, Rancho Cucamonga, T.E.A.M., Temecula, West San Bernardino)
Kern County
Los Angeles County
(Greater Los Angeles, Long Beach, South Bay, Westside, East San Gabriel Valley, Pomona, San Gabriel Valley, Southeast Los Angeles, Santa Clarita & Tri-Valley)
Orange County
San Diego County
San Luis Obispo County
Santa Barbara County
Ventura County
All athletes and coaches are required to submit this waiver to participate in SOSC activities.