Individually, we are players. Together, we are a team.
Career Opportunities at SOSC
We're expanding our Schools Programs and our traditional Community Sports and Programs! Please join us to help with this great and important work. Discover a fulfilling career that makes an impact. Amplify the results throughout southern California by building a team of committed volunteers. Your work with Special Olympics Southern California will touch the lives of thousands of athletes with intellectual disabilities, their families and friends from San Luis Obispo and Kern counties in the North to the U.S./Mexico border. Our goal is to attract, develop, retain and promote a talented, diverse workforce where all employees can contribute to their highest potential. SOSC is proud to be an equal opportunity employer. We do not discriminate on the basis of race, color, religion, sex, gender identity or expression, national origin, political affiliation, sexual orientation, marital status, disability, neurodiversity, age, parental status, socio-economic background, military service, or any other characteristic or status protected by applicable law.
I have been truly lucky for over 25 years to be a minor part of this wonderful organization and movement, little did I know how much the athletes and volunteers would change my life. I am humbled and grateful to work daily with our amazing athletes as there is nothing they cannot accomplish. Thank you SOSC for giving me the opportunity to be part of the organization and movement!
Diversity, Equity, Inclusion, & Anti-Racism Vision Statement
SOSC prides itself as a diverse, inclusive and anti-racist organization that practices equity, promotes unity and respects all voices to ensure everyone within our communities achieves their full potential.
Learn more about what we are doing to spread inclusion.
Become a Volunteer
Volunteering is another way to get involved. Whatever your interests, talents, background and availability, there are volunteer opportunities for you.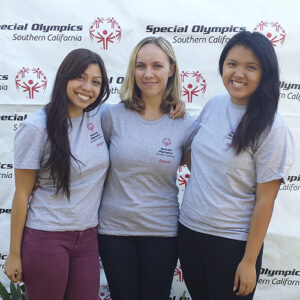 Become an Intern
We offer internships to students throughout the year. Internships are available across many departments in the regional offices as well as our headquarters in Long Beach.