June 5-12, 2022, Orlando, Florida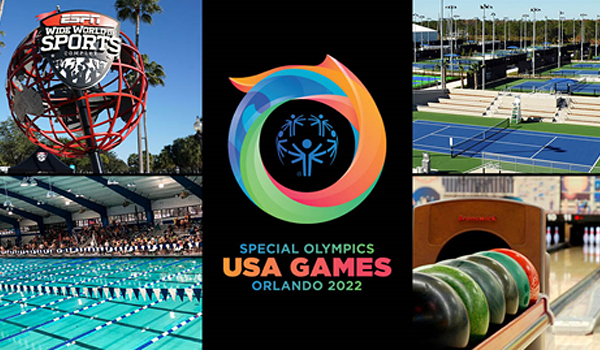 Team Southern California was be among more than 5,000 athletes and Unified Partners, 10,000 volunteers and 1,500 coaches who participated in one of the largest Special Olympics events in the United States, Special Olympics USA Games.
Team Southern California consisted of 63 delegation members. Athletes and Unified Partners competed in 6 sports: Athletics, Bocce, Bowling, Golf, Swimming, and Tennis.
For more information about 2022 USA Games, visit:
2022specialolympicsusagames.org
Angela Caterino
Karen Cruz
Tyrone Garrett
Sarah Kovacs
Corey Martin
Jason Whittaker
MacKenzie Willis
Tim Woodall
La Shanda Shipp
Brian Erickson
Trabuco Hills High School
Athletes & Partners
Carlos Ascencio
Sasha de Jong
Katie Finn
Logan Fulford
Coach
Kara Johnson
Athletes & Partners
Hailey Camacho
Amanda Ford
Daniel Martinez
Victoria Rios-Quintero
Coach
Nadia Roldan
Murietta Valley High School
Athletes & Partners
Alejandro Aleman
Rio del Valle
Thalia Manzo
Seylah Stephens
Sangwon Ahn
Dawn Albritton
Matthew Glumac
Erin Larner
Rob Windham
Caddie
Craig Wood

Kayla Aulis
Kyle Buckley
Sasha Cruz
Lorna Murakami
Tessa Nagy
Manuel Prieto
Mark Uyeda
Nathan Yamazaki
Ryan Rodriguez
Kaitlin Tsue
Youth Leadership Experience
Athlete
Liam Mistry

Mentor
Samantha Stewart


Unified Partner
Tyson Grimes
SOSC's famous Dog Pound volunteers who travelled to Orlando to volunteer at USA Games
Alex Phillips
Cathey Estes
Denise Daryl Smith
Hara Melillo
Ingelis Jensen
Jim Dusa
Kailey Melton
Maureen Barclift
Mose Marseille
Oscar Sanchez
Patricia Marseille
Rhonda Dusa
Sarah Lamburg
Sean Robinson