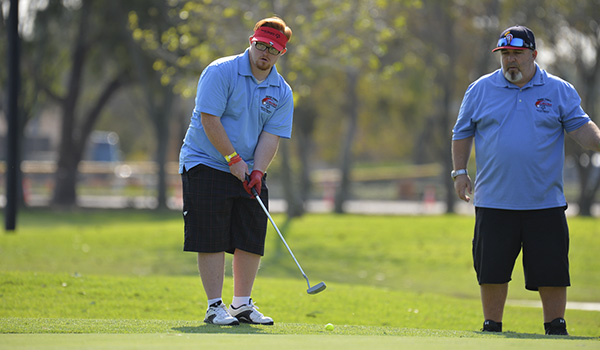 Like most golfers, Special Olympics athletes are driven by the opportunity to compete. Program planning is designed to develop individual golf skills that enhance performance, allowing the athlete to achieve success in playing the game.

The Special Olympics Golf program is centered on two educational phases designed to encompass all skill levels: learning to swing a golf club and learning to play the game. Athletes may participate in Skills, 9-hole stroke play or 18-hole stroke play.
Individual Skill Contest
Athletes train and compete in six skills similar on-course play, including a wood shot, an iron shot, a pitch shot, a chip shot, a long putt and a short putt.
Unified Sports® Team Play Competition
A nine-hole alternate shot format that teams a Special Olympics player with a non-Special Olympics player of more advanced skill and knowledge.
Individual Stroke Play Competition
Nine holes of golf
18 holes of golf
This sport is offered in the following locations:
Inland Empire
(Barstow, Mojave, Temecula, West San Bernardino)
Kern County
Los Angeles County
(Long Beach, Westside, Pasadena, Pomona, San Gabriel Valley, Southeast Los Angeles - Lakewood, Santa Clarita & Tri-Valley)
Orange County
San Diego County
San Luis Obispo County
Santa Barbara County
Ventura County