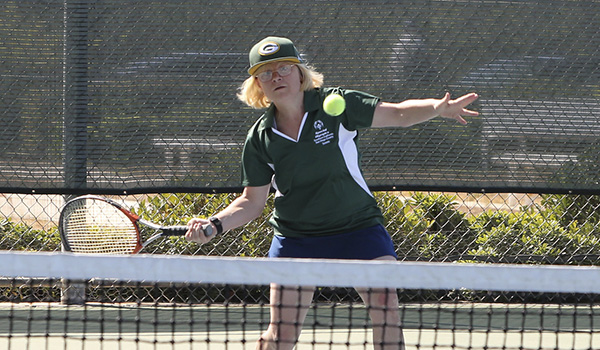 Like mainstream tennis, Special Olympics Tennis gives athletes the opportunity to learn and perform a variety of skills that can be played throughout life. In addition to offering traditional singles and doubles events, Special Olympics offers individual skills competition to allow athletes to train and compete in basic tennis skills. The development of these key skills is necessary prior to advancing to match play.
Official Events
The following tennis events provide meaningful competition for athletes with lower ability levels:
Individual Skills Competition
Forehand Volley
Backhand Volley
Forehand Groundstroke
Backhand Groundstroke
Serve - Deuce Court
Serve - Advantage Court
Alternating Groundstrokes with Movements
This sport is offered in the following locations:
Inland Empire
(Barstow, Temecula, West San Bernardino)
Kern County
Los Angeles County
(Pomona, Santa Clarita & Tri-Valley)
Orange County
San Diego County
San Luis Obispo County
Santa Barbara County
Ventura County
All athletes and coaches are required to submit this waiver to participate in SOSC activities.