Kern & Inyo Counties Community
Special Olympics Southern California
Special Olympics Kern County enriches the lives of hundreds of athletes with intellectual disabilities and their communities through sports, education, and athlete health.
Special Olympics Kern & Inyo Counties is one of nine community programs of Special Olympics Southern California and offers seasonal sports training and competitions for athletes.
Year-Round Sports
The Kern County community offers 12 Olympic-style individual and team sports that provide meaningful training and competition opportunities for individuals with intellectual disabilities.
Spring Season (February - May): Athletics (track and field), Basketball, Bocce, Flag Football and Swimming
Bowling Season (June - August)
Fall Season (August - November): Golf, Soccer, Softball, Tennis, and Volleyball
Floorball Season (November - March)
LEARN MORE
Become an Athlete: FREE
No matter the person's age or skill level, Special Olympics Kern County has something for every person with intellectual disabilities. We deliver high-quality, year-round competition and training opportunities in an inclusive culture that stresses athletic excellence, rewards determination, emphasizes health, and celebrates personal achievement.
BECOME AN ATHLETE
Become a Volunteer Coach
Few people impact the athletes more than their coaches. Coaches not only provide sports skills but they are role models who teach character, sportsmanship, courage, ability and personal growth.
LEARN MORE
Make a difference in the lives of persons with intellectual disabilities. Donate your money, time, or talents to ensure the athletes continue to receive the top-quality sports training and competitions they deserve.
Upcoming events in Kern County.
Mar 02 2024
Mar 07 2024
Jun 08 2024
No event found!
Special Olympics Kern County provides year-round sports training and athletic competition in a variety of Olympic-type sports for children and adults with intellectual disabilities, giving them continuing opportunities to develop physical fitness, demonstrate courage, experience joy and participate in a sharing of gifts, skills and friendship with their families, other Special Olympics athletes and the community.
We are committed to responsible stewardship of your support and are proud of our high standards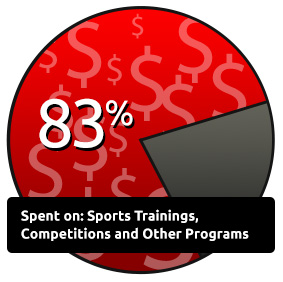 SIGN UP FOR OUR E-NEWSLETTER
Receive updates on upcoming Special Olympics Southern California events and news about the athletes, volunteers and supporters of SOSC via email!
This community includes the following cities:
Aerial Acres, Arvin, Bakersfield, Bakersfield, Bear Valley Springs, Big Pine, Bishop, Bodfish, Boron, Buttonwillow, Caliente, California City, Cantil, Cartago, Chalfant, Chalfant Valley, Darwin, Death Valley, Delano, Di Giorgio, Edison, Edwards, Edwards AFB, Fellows, Frazier Park, Glennville , Golden Hills, Hammil Valley, Havilah, Independence, Inyokern, Johannesburg, Johannesburg, Keeler, Keene, Kernville, Lake Isabella, Lamont, Lebec, Little Lake, Lone Pine, Lost Hills, Maricopa, Mc Farland, Mc Kittrick, Mojave, Monolith, Mountain Mesa, North Edwards, Olancha, Onyx, Pine Mountain Club, Pumpkin Center, Randsburg, Red Mountain, Ridgecrest, Rosamond, Shafter, Shoshone, Stallion Springs, Swall Meadows, Taft, Tecopa, Tehachapi, Tupman, Wasco, Weldon, Willow Springs, Wofford Heights, and Woody.