MARCH 14 - 21, 2019 - Abu Dhabi
Every two years, Special Olympics holds its World Games.
Alternating between Summer and Winter Games, the Special Olympics World Games is usually – and certainly was in 2019 in Abu Dhabi – the largest sports and humanitarian event in the world that year.
The World Games in Abu Dhabi, capital city of the United Arab Emirates, was the largest, most spectacular and inspiring in history.
7,500 athletes
2,500 coaches and delegates
190 participating nations
20,000 volunteers
24 sports
4,000 Honored Guests
6,000 Family Members
500,000 plus spectators on site, with millions watching globally
Congratulations SOSC Athletes
Six athletes from Special Olympics Southern California were chosen to compete at the Games. In 2019, representing Southern California were:
(Rancho Cucamonga)
Athletics
Congratulations to these six amazing athletes!
2019 World Games Final Leg Torch Run
Congratulations to San Luis Obispo County Sheriff Ian Parkinson, retired San Luis Obispo Police Lieutenant Bill Proll, and retired Los Angeles Sheriff's Department Commander Mark McCorkle who have been selected to serve as part of the Final Leg team, serving as Guardians of the Flame as they run the "Flame of Hope" throughout the United Arab Emirates (UAE) March 3-14, leading up to the start of the 2019 Special Olympics World Games in Abu Dhabi. Final Leg runners from around the world were selected to proudly represent their local Torch Run and Special Olympics Programs. The Final Leg team will embark on different routes, running the Flame of Hope throughout cities and communities across the United Arab Emirates at various events, honouring the spirit of the Special Olympics global movement and delivering a message of hope to communities where people with intellectual disabilities continue to fight for acceptance and inclusion. The Final Leg Team will safely deliver the "Flame of Hope" to the 2019 Special Olympics World Games Abu Dhabi Opening Ceremony on March 14th.
As the 2015 recipient of the California Sheriff's Award of Excellence for his support of Special Olympics Southern California, Sheriff Ian Parkinson is no stranger to supporting the athletes and our mission. With 25+ years of involvement, he regularly attends the Special Olympics San Luis Obispo County Area Games every year and brings numerous Sheriff's Department employees with him. He greets all of the athletes when they march into the gym and then he hands out medals after the competitions. He is also a pivotal person in making local Tip-A-Cop dinners successful.
Although he hasn't run in a Special Olympics World Games Final Leg before, Sheriff Ian Parkinson was a pivitol leader with the 2015 Special Olympics World Games Final Leg in Los Angeles. He went the extra mile supporting the runners; he even had bumper stickers made for every patrol car in his fleet and provided breakfast to the team at the Sheriff's Department.
His greatest Torch Run memory was a long time ago and it was when all of the officers running the Torch got on to the Department's SWAT bus which had been converted from a City Transit bus. He said he will never forget those first runs because of the camaraderie and fun everyone had because it was something new and meaningful. His greatest Special Olympics memory occurred at one of the several LETR International Conferences he has attended. An officer was at the podium talking about athlete inclusion and said, "The athletes have better abilities than we do because they have unconditional love for everybody." The speaker then stated, "We are the one with the disability because we judge people before even knowing them." These statements really meant something to him.
With 26+ years of involvement with Law Enforcement Torch Run, Retired Police Lieutenant Bill Proll's dedication to our movement is unquestionable. Among his numerous contributions, Bill is always sure to attend the annual Special Olympics San Luis Obispo County Area Games and gives a speech about LETR at the Opening Ceremonies. He greatly enjoys watching the athletes compete and placing medals on their necks. It is a joy like no other!
Bill has also run in the local Final Leg Torch Run every one of those 26 years. One of his favorite Torch Run memories occurred during the 2017 Final Leg in Austria. The entire team was running through Salzburg towards the ceremony site when he saw a woman way up ahead holding a sign. He did not think anything of it until we got closer and he started to think the woman looked like his sister. Sure enough it was his sister holding a big sign about how proud she was of her brother. He had no idea she would be there and it was a great surprise. His team members took pictures with his sister and him and it was a very proud moment.
His proudest achievement in his career is that he and the other volunteer officers have been able to grow Law Enforcement's financial contribution and support to Special Olympics Southern California over the years. The first year they put on a Tip-A-Cop dinner they raised about $4,000. Last year they raised about $140,000 at their dinners!
Bill first got involved with the Torch Run because his police chief asked him if he would run with the other officers. He just ran the torch the first few years and then was invited to the International Conference in Hawaii where Bill became a lifetime member of the Torch Run.
After 33 year so service at SLOPD, Lieutenant Bill Proll retired from the San Luis Obispo Police Department in December of 2017. In his time with SOSC, Bill organized 20 annual Tip-a-Cop dinners, and is currently the County LETR Director. In 2009, Bill was a runner on the Final Leg for the World Winter Games in Idaho. In 2015 and 2017 Bill was a team leader for the Final Leg for the Los Angeles and Austria World Games.
Mark McCorkle is a retired Commander from the Los Angeles County Sheriff's Department, who has been involved with the Torch Run movement for 11 years. He has been married to Gerri, a retired sergeant from LASD, for 36 years and they have three adult children, Bradley (31) Andrew (28) and Erin (26). They are also the proud grandparents of Wyatt Rae, who will turn two in May.
Mark has been a committed Torch Run participant, actively involved in the Southern California LETR Executive Council and is the chair of his local Special Olympics Regional Leadership Council. When he retired from LASD, Mark served as the Interim Executive Director of LETR for SOSC for one year.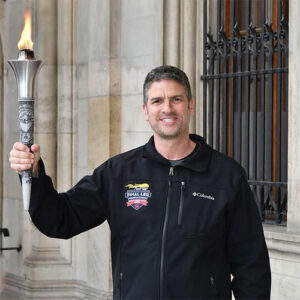 Harry Drucker is a Sergeant with the Los Angeles County Sheriff's Department who has spent over 16 of his 31 years in Law Enforcement promoting inclusion and awareness for people with intellectual disabilities. As a Board Member with the North American Police Ski Championships and now with the Law Enforcement Torch Run (LETR), Harry has brought attention to the cause in new and entertaining ways through public information and video production.
Harry started his involvement with Special Olympics, Southern California in 2008 as preparations began for the 2010 Long Beach International LETR Conference. Harry now functions as the Production Manager of the annual LETR International Conference and has participated in International Final Legs in South Korea, Los Angeles, Austria and now Abu Dhabi as a member of the Documentation Team.