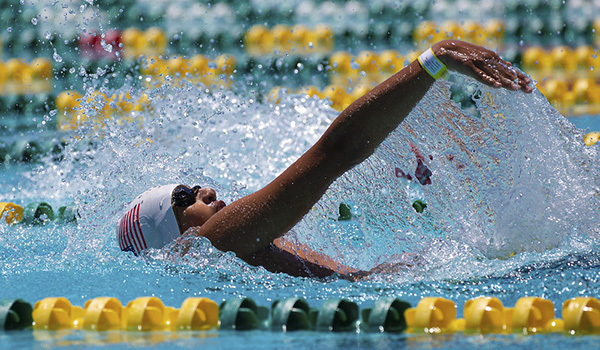 Because of the wide array of swimming events offered, it is appropriate for a range of ages and ability levels. Swimming competition events are based on a variety of strokes.

An athlete with Down syndrome who has been diagnosed with Atlanto-Axial Instability may not participate in Butterfly events, Individual Medley events, diving starts or diving.
Freestyle Events
25, 50, 100, 200, and 400
Breaststroke and Butterfly Events
Backstroke Events
Individual Medley Event
Freestyle Relay Events
Medley Relay Event
The following swimming events provide meaningful competition for athletes with lower ability levels:
This sport is offered in the following locations:
Inland Empire
(Central Riverside, Desert, Fontana, Mojave, Rebels, Temecula)
Kern County
Los Angeles & San Gabriel Valley
(Greater Los Angeles, Long Beach, South Bay, Westside, Pasadena, San Gabriel Valley, Southeast Los Angeles, Santa Clarita & Tri-Valley)
Orange County
San Diego County
San Luis Obispo County
Santa Barbara County
Ventura County
All athletes and coaches are required to submit this waiver to participate in SOSC activities.