Special Olympics Fit Feet is a free podiatric screening for participating Special Olympics athletes.
The athletes will have their ankles, feet, lower extremity biomechanics, and proper shoe and sock gear evaluated. Fit Feet also provides referrals to athletes who require follow up services.
Dermatologic evaluation for skin and toenail problems (athlete's foot, ingrown toenails, nail fungus, plantar warts, etc.)
Neurologic evaluation for strength and balance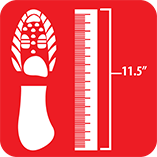 Measurement of appropriate shoe size (length and width) and evaluation of appropriate shoe and sock type
Musculoskeletal evaluation for strength, balance, range of motion, deformities (i.e. hammertoes, bunions, etc)
Biomechanical evaluation for flat feet, high arches
Gait evaluation (watching how the athlete walks)
After the screening, the clinicians will discuss the check up with the athletes, their coach, and a parent or guardian. The athletes will also receive their shoe size, any recommendations or referrals, and literature regarding common foot problems and foot care.